Maryland House & Garden Pilgrimage
The Talbot County portion of the Maryland House and Garden Pilgrimage is scheduled for May 7, 2022.
Tickets are $35 in advance and available at Maryland House and Garden Pilgrimage Talbot County (brownpapertickets.com).
Tickets may also be purchased on-site for $40.
Enjoy lunch in Easton or Pre-Order a Delicious Lunch for Pick-Up
A delicious $17.00 box lunch will be offered by reservation only and may be picked up on May 7 at the Third Haven Friends Meeting House between 10:30 AM to 1:30 PM. Checks for box lunch orders must be received by May 2, 2022. Please make your check payable to TCGC (Talbot County Garden Club), and mail to: TCGC, P.O. 1524, Easton, MD 21601 indicating your sandwich selection on the check. Your cancelled check is your receipt.
Sandwich choices are: 1) Tarragon Chicken Salad with grapes and almonds on multigrain bread; 2) Roast Beef and Brie with horseradish mayo on baguette with lettuce and tomato; 3) BLT and Havarti with Turkey on baguette with mayo; or 4) Veggie Power House with veggies, jack cheese, hummus and spicy mustard on multigrain bread. Also included will be a bottle of water, The Ivy's famous coleslaw, chips and a chocolate chip cookie. If no choice is indicated, you will receive a Tarragon Chicken Salad sandwich.
Tour Stops
Here are insights into each of the Tour's celebrated historic properties and waterfront estates – all sure to regale you with beguiling floral arrangements indoors and exquisite spring gardens outdoors: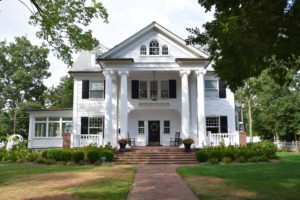 WILLIAM MASON SHEHAN HOUSE: Constructed in 1909-1910 in the Colonial Revival style, the William Mason Shehan House is one of Easton's most distinguished homes. As Chief Judge of the Circuit Court of Talbot County, Shehan resided in this home with his family until his death in 1941. Upon entering this lovely home, you will find an airy foyer and grand staircase, a dining room with bay windows offering wonderful natural light, a sunroom with wrap-around windows and relaxed views, and a welcoming kitchen with a serene color palette. The rear yard is an island of tranquility with a guest house and pool visually connected to the main house through the use of trellises and magnificent landscaping.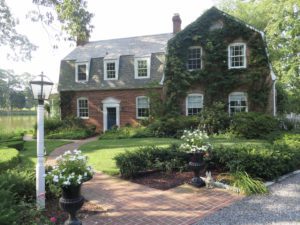 RIVERBANK: Filled with a crisp, elegant blue and white interior, this charming house is nestled along the banks of Dixon Creek, just off the Tred Avon River. Local lore has it that a smitten young landowner fell in love with Mary Lee of Virginia and named his land "Lee Haven" in honor of his bride-to-be. Alas, the marriage never took place, but the name held. Much of the property is lushly shaded with older trees and an impressive display of peonies, camellias, hydrangeas, and rhododendrons. With winding pathways throughout, the garden continues to evolve with fresh plantings and new spaces such as the creekside firepit for friends and family to enjoy. Follow the brick walk to the rear of the home to take in the waterside garden and always-blooming living shoreline just feet from the water's edge. This delightful property is a horticulturist's dream!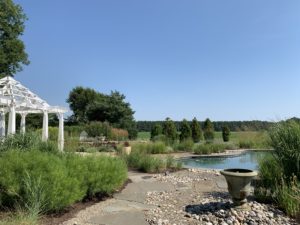 SHIPSHEAD FARM: Sheepshead Point Farm was referenced in Talbot County documents with a land patent of 1664. Its 18th century three-story manor house was recently renovated to accommodate 21st century living. The original portion of the house sits on a brick foundation with frame and brick nogging in the walls. The oval stairway and heart pine flooring on all levels of the main house are original. New additions allow for a private master suite with garden and farm views of grazing wildlife and numerous species of migrating waterfowl, as well as new kitchen, dining room and great room. Backyard pathways are highlighted by a variety of grasses, crepe myrtles and perennials. Paths lead to a pond-like swimming pool, butterfly gardens and expansive farm fields beyond. Sensitivity in conserving farmland from development and creating a mecca for wildlife were foremost on owners' minds over the last 30 years and they hope you will find your own sense of peace as you walk the grounds.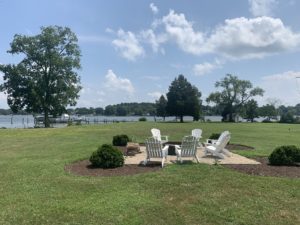 LEGGACY: The back of the 1870s Victorian overlooks a large lawn with old, stately trees and a pool located halfway to the Miles riverbank. The house is built in the "shingle style," popular in late 19th century Northeastern coastal areas for those seeking a rustic rather than formal Victorian style. Covered in butter-yellow scalloped shingles, the house has wide wraparound porches and a complex, asymmetrical roofline formed by dormers, bay windows and a wide turret. Throughout the house, soft wall colors set off dark pine floors and high gloss cream paint highlights original, restored Victorian moldings. The house's renovation preserved historic features, including a pair of iron brackets mounted on either side of the front doorjamb. They originally held a large iron bar across the door that was the 19th century version of locking up at night. Established around 1680, the now-extinct Miles River Ferry transported passengers via canoe and later a flat-bottomed boat that docked here. Before the first Miles River Bridge was built in 1858, ferry was the only way to cross the river to access Easton or St. Michaels.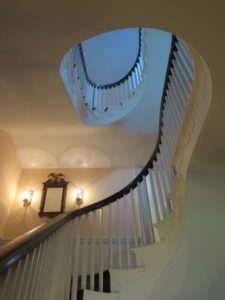 GROSS COATE FARM: The large brick dwelling, located at the confluence of Gross Creek, Lloyd Creek and the Wye River, is a Georgian masterpiece, dating from 1760. The property was originally patented to William Gross by Lord Baltimore in 1658, then owned by the Tilghman family for two and a half centuries. Author Christopher Weeks writes of this gracious plantation house: "The house grew and changed in a leisurely fashion with the family fortunes." In 1914 while significant changes were undertaken, an intricately carved mantel was rescued from the barn. The dining room floors were made from walnut trees, blown down by a hurricane. The wood was cured by lying in the river for several years. The wrap-around porch was designed to unite the house's many varied additions. The creamery, smokehouse, laundry, carriage house, and stable are of interest, as are the very old, magnificent trees, several of which are state champions. The present owners have added a small Roman Catholic chapel, consecrated by Cardinal Donald Wuerl of the Archdiocese of Washington in 2016. It is dedicated to Maryland's Elizabeth Ann Seton, America's first female saint. All are welcome to visit and say a little prayer!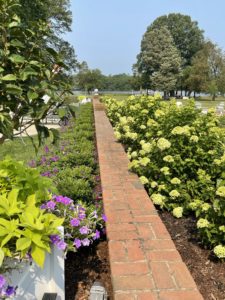 ASHBY: Situated on Goldsborough Neck overlooking the Miles River, Ashby was built in 1858 by Robert Goldsborough and his wife Elizabeth Greenberry. Ashby was designed with a romantic sensibility on the highest point of land facing south with a rolling lawn and two-mile vista of the river. The addition of a Colonial Revival portico in 1941 created a more formal Georgian mansion from the otherwise informal Italianate dwelling. The building is two bays wide, two bays deep and constructed on a brick foundation, reputedly part of an earlier foundation. An elegant entry hall features impressive high ceilings and the floor-to-ceiling windows in the great room illuminate the expansive interior rooms that overlook the river. The renowned Maryland political family and original owners are descended from Nicholas Goldsborough who emigrated from England and settled on Kent Island about 1670. Over nine generations, the family played an influential role in Maryland and national politics. North of the house is the family cemetery enclosed by a high brick wall and stately gate. Many Goldsboroughs are buried here.
THIRD HAVEN FRIENDS MEETING HOUSE: Completed in 1684, this is the oldest documented building in the state. As one of only a handful of 17th century buildings to survive in Maryland's Tidewater region, it is listed with the Maryland Historical Trust. At the time of its construction, there were many small meetings in the area, and it was attended as a general "Meetinghouse" rather than as a place of local worship. By the end of the 17th century, the smaller meetings closed down and their members traveled more frequently to Third Haven. Meeting for worship continues to the present. Originally built in a modified cruciform, it was enlarged to its present shape in 1797-98. The sliding panels, which divide the large room, were closed to provide for separate men's and women's business meetings.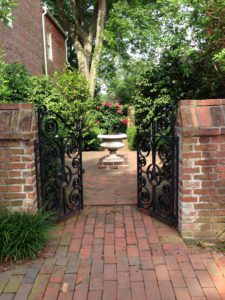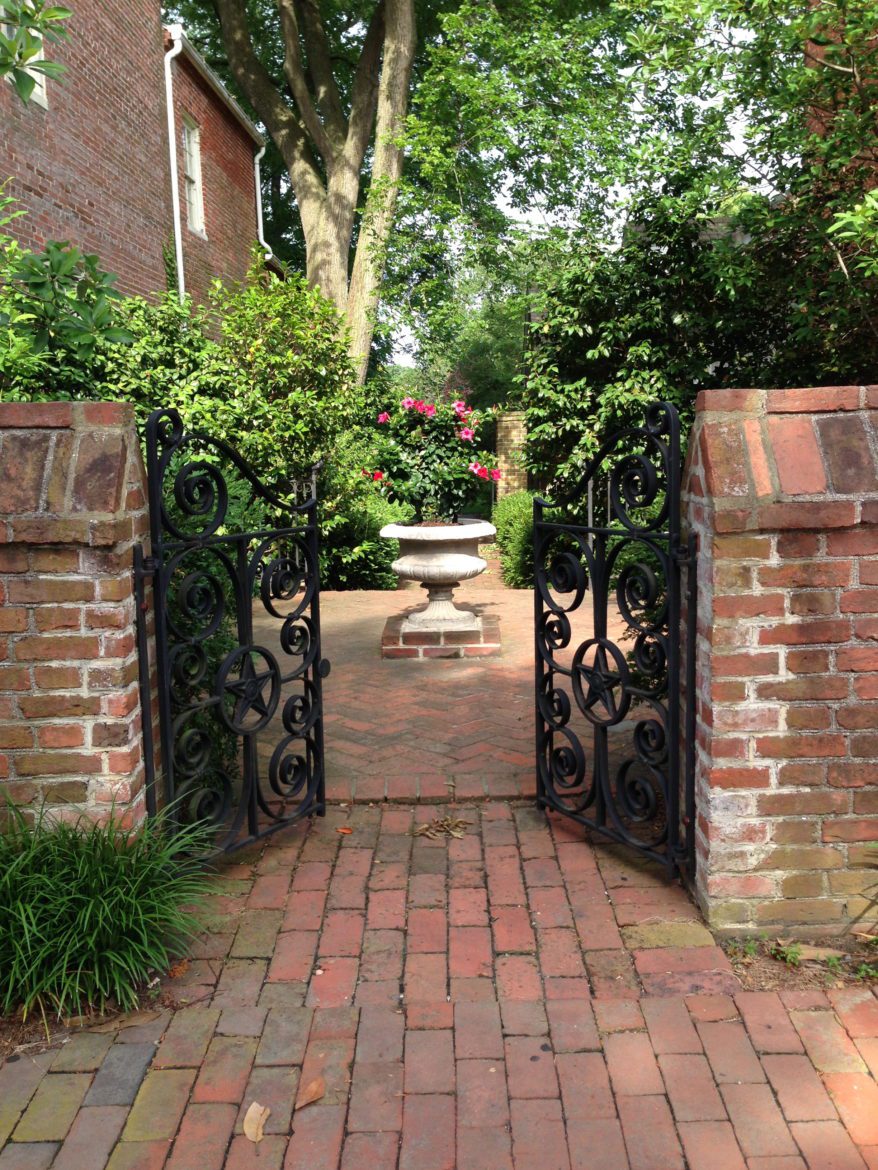 TALBOT HISTORICAL SOCIETY GARDENS: You are invited to tour the Historical Society Gardens, maintained by Talbot County Garden Club members. Enter through the North Terrace on Washington Street. The hand-wrought iron Entrance Gate complements the Charleston Gate at the far end of the garden and incorporates the Society's "Star" logo. The charming Entrance Garden was designed as a graceful entry to the larger Nettie Jones Garden beyond that includes boxwood, spring and fall blooming azaleas and camellias, oak leaf hydrangeas, native sweetbay magnolias, and a beautiful display of colorful annuals. The main garden has rectangular beds and an intersecting axis as is typical of classical garden design in the 17th and 18th centuries. The garden's picket fence was designed after that of the Chase-Lloyd Garden in Annapolis. The South Terrace Garden was a gift of the Garden Club in 1961 and was replanted in 2015. The Alice D. Huxley Herb Garden in front of Joseph's Cottage has a sundial as its focal point. Enjoy these beloved in-town gardens.
For questions, contact Talbot County Tour Chair Eleanor Denegre: edenegre@atlanticbb.net
For other information, check www.mhgp.org / 410-821-6933
The History of the Talbot County – Maryland House and Garden Pilgrimage
The Maryland House and Garden Pilgrimage is a beloved springtime tradition for thousands of "pilgrims." From the beginning, the Talbot County Tour has been the most prestigious and sought after tour for several reasons: our creeks and rivers of unparalleled beauty; the magnificent colonial era properties along those waterways; the many points of historical interest; and, the outstanding gardens, many of which were planned by the best professional garden designers of their day.
The Maryland House and Garden Pilgrimage Committee was formed in 1930 by the Federated Garden Clubs of Maryland and incorporated as a separate non-profit entity in 1953. Its philanthropic mission to support preservation and restoration of architecturally significant properties has remained constant with County tour sponsors directing their proceeds to benefit special projects in their counties.
After the earliest years when the event was more of an informal visit of garden club ladies from Annapolis, the Pilgrimage counts 1937 as the first tour with seven counties and 37 properties – including Talbot County – and has continued every year since, with few exceptions. In Talbot County Garden Club's 100th year, the Pilgrimage is hosting its 80th tour.
The 1937 tour cost only $.50 per house and the guidebook, which included Chesapeake Bay ferry schedules, cost $1.00. It's hard to imagine the time and effort visitors took to get here before the Bay Bridge was built, and even then it was a long trip on rural roads. From 1963 – 1973, MHGP hosted sold-out cruises from Baltimore aboard the 400-passenger M.V. Port Welcome that alternated dockings between Chestertown, St. Michaels and Oxford.
In our Club history, it's interesting to note only three houses were open for the 1940 tour, and in 1947, seventeen houses were open – from the northern end to the southern end of the County! Currently, a tour focuses on one area of the County and features a manageable number of houses so that pilgrims might have the best possible experience. After the 50th Anniversary Tour in 1987, which featured a number of houses from the 1937 Talbot Tour, the TCGC board of directors voted to host the Pilgrimage only in alternate years. Now occurring in even numbered years, the Tour is TCGC's most successful fundraiser.
Pilgrims clamor for glimpses of such fine houses and gardens as the grand Palladian style Wye House, owned by
generations of the Lloyd family, prominent in Talbot County since the 17th Century, and the spectacular 19th Century Georgian Revival style Harleigh Farm, opened for the first tour by TCGC's first president, Mrs. Preston B. Spring, and many times since by the current owners. Early tours showcased the great mansions time after time, and later tours recognized the popularity of also including smaller, attainable charmers around the County. And, always, the beautiful gardens, old and new, large and small, have been a huge draw.
Our tour's successful reputation is due to the unparalleled efforts of decades of Talbot County Garden Club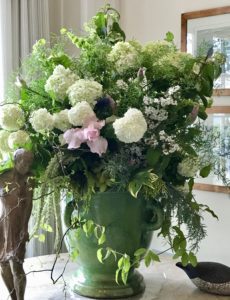 members paired with the unending generosity and hospitality of so many homeowners. Putting on a premiere tour requires a year of careful organization of myriad details tour after tour. With the willing, enthusiastic, and dedicated participation of 100% of the Club's membership, every duty is attended to — from providing hostesses to road marking. It's the work of the flower committee, led by the Club's prizewinning, talented arrangers, that creates the crème de la crème of the Talbot Tour – the sparkling, eye-catching flower arrangements, which fill each home, interpreting the surroundings and enhancing the beauty of each place.
The Talbot Tour epitomizes what the County is so famous for – elegant, waterfront living. A pilgrim in 1987 was heard to remark, "It is not necessary to go to England to see the most beautiful gardens," and we can enthusiastically add, "and houses and floral arrangements!"