As a member of the Garden Club Of America, National Garden Clubs Central Region, and Federated Garden Clubs of Maryland, the Talbot County Garden Club has access to many prestigious awards.
National Garden Club, Central Atlantic Region of State Garden Clubs, Inc.-
2020-2021
Federated Garden Club of Maryland 
Dessie Moxley Youth Involvement and Development Award, 1st place for painting the Frances P – Children's Garden Committee
Year Book Award 1st Place Large Clubs – Alden Firth
Presidential Award for creating of the District I Newsletter, "Garden Basket" – Trish Reynolds

TCGC Flower Show Awards 
District I FS  "Harvest Highlights"  Sept. 24, 2022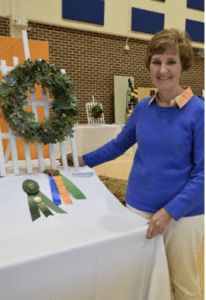 Award of Horticultural Excellence, The Grower's Choice Award – Susie Middleton, member of Dorchester, Oxford and Talbot County GCs and incoming president of FGCMD.
Arboreal Award (a NGC award) – Pam Keeton
Margaret Roberts Yerger Perpetual Award,* (District I award) – Julia Miller. *awarded to the exhibitor winning the most blue ribbons for perennial exhibits.
Blue Ribbon Winners include: Susie Middleton, Julia Miller, Pam Keeton, Chloe Pitard, Trish Reynolds, Sara Walker, Nicki Schwab
Division II – Design
Susan B. Whitaker Perpetual Award* – Susie Middleton.  *awarded to the most creative Petite Design exhibit expressing a sense of humor and wit.
Other TCGC Members participating in the FS: Myra Gons ( a first timer) participated in Botanical Arts, Division III, and Samantha McCall, entered a Line Mass Design.
National Garden Club
The Tommy Donnan Award for Newsletter, One-Page-, Extra Large Club for "TidBits" – Horticulture Committee
Certificate of Appreciation Award for "TCGC 2019 in Review" – Rita Mhley
2019
Federated Garden Club of Maryland 
1st Place –  Year Book Award
1st Place –  Garden Therapy Award – Planting Ice-Cream Cones Activity with Residents at Bayleigh Chase
1st Place – Community Service Award – Christmas Meals on Wheels
1st Place – Historical Preservation Award – Historical Society Of Talbot County Restoration Project
2nd Place – Dessie Moxley Youth Involvement Certificate – Six Youth Garden Projects
1st Place District Director's Photography Award – Pam Keeton for her photo of Zinnia Elegans – includes a $50 check
1st Place – Mary F, Fitzpatrick Award – Ingrid Blanton for her photo of a floral design in which the applicant is both the designer and photographer
3rd Place – Harry C Reynolds Photography Award – Bobbie Brittingham for her photo of Betula papryifera 'White Birch'
2017-18
The Federated Garden Clubs of Maryland
Civic Development Award, 2nd Place, Large Club — Design And Planting at Library Entrance
Yearbook Award, 2nd Place, 70-99 members
Harry C. Reynolds Photography Award, 1st Place — Trish Reynolds
Annette Richter Photography, 3rd Place — Trish Reynolds
Silver Award:  Rae B. Weeks Historic Preservation Award — In Recognition of the Renewal of the Historical Society Garden
Silver Award:  Dessie Moxley Youth Involvement Award — 1st Place — Worm Composting
2017
District Director's Photography Award, 3rd Place – Bobbie Brittingham
Annette Richter Photo Award, 1st Place –Julia Miller
Civic Development Award, 3rd Place – Redesign and planting of Children's Garden
Maryland Roadside Award "In celebration of its 100th Anniversary. Planted 13,000 daffodils in front of Moton Park along Rt. 333 By-Pass"
Dessie Moxley Youth Involvement Award, 1st Place – Fairy Garden Workshop
Publications Newsletter Award, 1st Place, Large Club –"Can You Dig It"
Historic Preservation Award, 1st Place – Huxley Herb Garden
Civic Development Award, 2nd Place, Large Club – 13,000 Daffodil Planting
Garden Therapy Award, 2nd Place, Large Club Planter Boxes at Candlelight Cove Assisted Living Facility
Yearbook Award, 2nd Place, 70-99 Members
2017
Yearbook Award For Clubs, 1st Place, 100-199 Members
2018
Garden Club of America –
Club Civic Improvement Award — Carol Harrison
Club Communications Award —  Dede Hoopes
Club Appreciation Award — Mary Louise Maechling
Barbara Spaulding Cramer Zone Floral Design Education Award — Bobbie Brittingham