Each year many members of Talbot County Garden Club generously contribute to ͞Wreaths Across America and attend the ceremony at the Eastern Shore Veterans Cemetery in Hurlock, Maryland, to lay wreaths at the grave sites of our nation's veterans.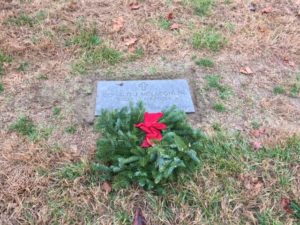 Wreaths Across America – Their story…..
In 2007, the Worcester family, along with veterans and others who helped with their annual Christmas wreath ceremony in Arlington, formed 'Wreaths across America'. This nonprofit organization continues the Arlington tradition as part of its mission – Remember, Honor and Teach. WAA and its network of volunteers laid over 900,000 memorial wreaths at nearly 1200 locations last year in the United States and beyond. WAA accomplished this with help from over 2,500 fundraising groups and thousands of helping hands. The annual pilgrimage from
Harrington, ME to Arlington National Cemetery is known as the world's largest veteran's parade, stopping at schools, monuments, veteran's homes and communities all along the way to remind people how important it is to Remember, Honor and Teach. Source: "Wreaths across America" website.