Young Gardeners of Talbot County
Teaching children to enjoy gardening has long been a passion of the Talbot County Garden Club. While the group began with only the children of Club members, today the program is staged at the Talbot County Free Library in Easton and all children are welcome to participate in the monthly programs.
Then…
Thinking back to their childhood, several current TCGC members reflected on the Junior Gardeners of the 1950s. The little group regularly met in the basement of Christ Church, Easton. Their most memorable projects included starting sweet potatoes and avocado seeds in water and making and taking gifts to residents of the Home for Aged Women before staying to sing carols and eat cookies! One particularly happy memory was working on their knees beside their mothers in the Historical Society gardens ͞where the brick walls were covered with rambling roses that smelled so rosy.͟ Those recollections from a child's perspective included noting that the ͞grown up͟ members were talented in gardening and flower arrangin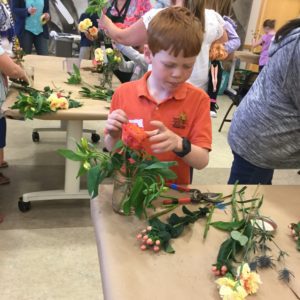 g and that they attended the Club meetings in dresses or suits and hats and gloves.͟
Now…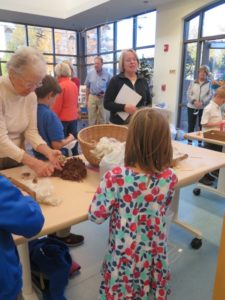 Under the guidance of Talbot County Garden Club members, today's Young Gardeners learned about community service when they planted 400 tulip bulbs at the Talbot County Free Library. TCGC Past President Mary Louise Maechling stated, ͞The goal of the Garden Club's Young Gardeners Committee is to encourage the interest of future generations in gardening, design and in our natural environment.͟ To that end, in their ͞Nature Around Us͟ segment, the children have created a holiday tree for the Hospice Festival of Trees decorated with all natural materials, learned about pollinators— birds, bees and butterflies–and about planting native plants that attract them and help them to survive, and participating in a Garde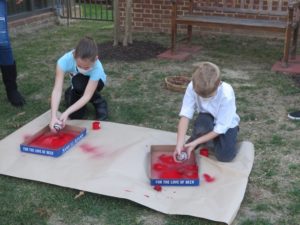 n Club of America-sanctioned flower show with their handmade and prize-winning fruit and vegetable creatures. It is because of activities such as these that in 2017 District I of the Federated Garden Clubs of Maryland awarded TCGC the silver, perpetual Marguerite Wiley Bowl for the Outstanding Youth Project.
2023 Young Gardeners Programs
For a listing of the dates and times of the current year programs please click here:
Young Gardeners Programs