Frances Plate Memorial Children's Garden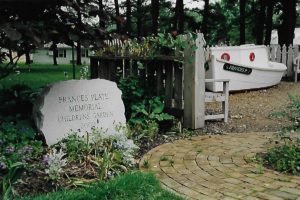 The creation of the Frances Plate Memorial Children's Garden in Idlewild Park, funded by a portion of a bequest from Frances, was dedicated in 2001.  With the fortuitous gift from a devoted Garden Club member the membership approved creating a children's garden.  The town of Easton gave TCGC one-quarter of an acre of land at the south end of Idlewild Park (now a beautiful garden plot that has since been returned to the Town), and landscape architect Rodney Robinson of Delaware was selected to design the garden.
More than 15 years since the creation of the Frances Plate Memorial Children's Garden, the Club added a fence and garden beds to create a new entrance from Idlewild Avenue.
Planned to emulate life on the Eastern Shore and designed to attract small children who weren't yet of an age for team sports, the Children's Garden became an immediate attraction for local youngsters and their families.  Children could enjoy nature, skipping and running up hills, following the oyster shell-shaped maze, walking on the stamped footprints of a bald eagle, playing hide and seek under the arbor, sitting in the wooden boat donated by the Chesapeake Bay Maritime Museum — among myriad other kid-like activities limited only by their wonderful imaginations.