Five Corners Fountain Garden
The decade of the 1980s saw the introduction of events and activities, which are still a recurring part of the Talbot County Garden Club's annual calendar.
Significant among the first-time events of the 1980s were the creation of new gardens and the rejuvenation of "older" gardens by our enthusiastic members.  Foremost among the "new" gardens was the creation of the Five Corners Fountain Garden in 1987.  The primary focal point for this garden was and is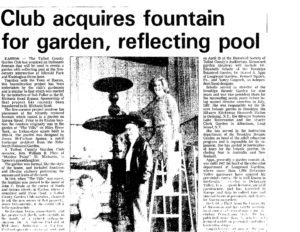 still the beautiful "Glebe Villa Fountain".  One of our members located this fountain and felt it too historically important to be discarded, which ultimately led to its being lovingly restored by Dr. Gibson Packard (husband of Club member Mary Frances Packard) and placed in its current location.  A garden, designed by one of our members, was created around the fountain with boxwood, perennials and colorful annuals.
The Five Corners Garden project continued with its restored Victorian fountain and concentric circles of Cushwa rose brick landscaped with a background of holly, boxwood and two circling beds of perennials, annuals, and bulbs.  White crepe myrtle and a custom-made teak bench enhanced the corner.  On August 20, 1990 a ceremony was held to honor those who had supported this project and to present a deed of gift for the fountain and garden to the Town of Easton.